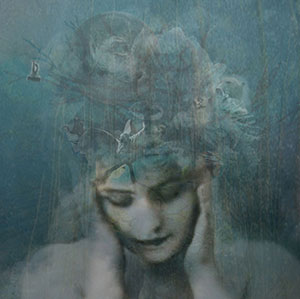 Techniques
Startingpoint of the series is always the vintage Victorian photograph. When the photograph is selected, layers of modern photography are added. It can be anything, sometimes the image is just added to get the right color and sometimes it is selected to complete the scenery. By working in transparant layers each added image works to complete the eventual work. After this proces the work is transferred...
… on linen
The image is transferred onto linen. Before the transfer the linen is hand worked with gesso, pigments and paints... After the transfer the painting is finished with inks, paints, varnish etc. and mounted onto a frame.
… pieces
The image is transferred onto pieces of paper. These pieces are assembled back into the image and glued onto linen. After this point the linen is mounted onto the frame, the background of het center figure is altered with layers of paint and paper to give the whole work more structure...
... on paper
The digital image printed on 250 grams Fine-art paper (edition), signed and numbered.